Here's a freelance article I wrote for The Vegas Valley Savings Magazine, which is mailed to approximately 42,000 households in the Vegas Valley. I wonder if the Sister Wives will see it?
The holidays have arrived, and with them comes the opportunity to make others feel important. I'm not talking about buying gifts to show affection. I'm referring to validating someone by reviving the lost art of letter writing. Yes, the fine art of sending greeting cards to those who matter most, and maybe even giving some to those along the periphery of your life (eg, neighbors, postal carriers, and those lovely people who collect your garbage). The human spirit longs for recognition; we all want to know that we matter, that we are enough simply by being here.  So why not show someone that he or she matters by giving a card? You can make a difference in the world through a simple act.  Expressing gratitude, humility, love, camaraderie, and a myriad of other things to someone via the written word makes it tangible and everlasting for the recipient.  So how does one go about writing a holiday card? Non-writer types can easily do this by following a few tips.
Go through your address book and also think about those whom you encounter in daily life; make a list of these people to whom you'll be sending a card so that you know how many greeting cards to purchase.
1. Purchase greeting cards or standard 8½ x 11 paper; if you're hand writing your message you may select other appropriate stationery.
2. Don't get overwhelmed by the thought of writing a card. You can easily create a "blanket" message to insert into each card, and then personalize it for each recipient by hand writing a shorter message inside when you sign the card.
3. Think back to what's happened in your own life or your family's lives over the past year. Reminisce month by month if it helps. What interesting things did you do, or receive, or were a part of? Did you take any vacations? Go to an interesting place for a business trip? See any concerts or shows? You can craft a few short sentences together and mention these highlights as a 2011 recap. For next year's cards, keep a running list of these events throughout the year—your message will be nearly done by the time the holidays arrive, and you can reduce your holiday stress!
4. Try to compose an update that will fit onto one-half of an 8½ x 11 sheet of paper. This is a good length that prevents you from rambling, yet it's long enough to give the recipient a glimpse into the goings-on of your life. When you initially compose your letter, and if you are using a computer, type it using normal 12-point font for ease of reading and revising. Afterward, you can shrink it to fit on half of the sheet by changing the font size and the font type. I've had great results using Gill Sans MT Condensed font, 10 point, 1.5" top & bottom margins, and 2" left & right margins; and Vrinda font, 10 point with 1" margins all around. Once the text fits, copy and paste the same paragraph onto the second half of the sheet so that when you print it you can have 2 copies per page, which you will then cut in half.
5. Decide on what type of paper you'd like to print your message. If it's darker colored paper such as Christmas or Hanukkah colors, adjust the font in the document to be bold for better readability. Print out a test page and then cut it in half to ensure it will fit inside the greeting cards you've selected. Once you confirm the fit, print off the proper number of copies you'll need (remember, if you purchased a package of 20 cards, you'll only need to print 10 pages of your message). If you've handwritten your message, take it along with the rest of your stationery to an office supply store and ask them to photocopy it onto your stationery.
6. Cut the sheets in half to prepare them for insertion into your cards. If you're feeling fancy, you can use paper edger scissors (aka scrapbook scissors with fancy detail) to create visually appealing borders. Once you've cut the sheets in half, use a glue stick to paste them into the blank side of the card.
7. Take some time to hand write a nice message inside the card to personalize your greeting. It doesn't have to be long. Best wishes for a happy and healthy 2012! followed by We enjoyed visiting you over the summer or any other tidbit that acknowledges the individual will suffice.
8. Keep the United States Postal Service in business! Buy those stamps, stick them on the envelopes, and mail a smile.
Maya Angelou once said, "We all have the power to be a rainbow in someone else's cloud."  So don't think that because you're not a writer you can't impact another person's life.  You have the power to do something true and right and great.  Just put your pen to paper (or your fingers to keyboard if you don't like your handwriting and would rather print from your computer) and say whatever it is that's in your heart.  Creating a permanent record like this for someone else reminds us that we are connected to each other through our humanity; it reminds us of compassion; it reminds us of the importance of recognition and documentation of our fellow brothers and sisters.  Don't use spell check or look for bigger words to use.  Just write.  Find your inner Jane Austen and drop a gem into someone else's day.  The ripple effects will astound you.
(I encourage you to mail a few extra cards to our wounded soldiers who so bravely serve our country. Just think about the impact if every single one of you reading this were to send a few cards! Please do it. Send them here:
Holiday Mail For Heroes
P.O. Box 5456
Capitol Heights, MD 20791-5456
All cards must be postmarked no later than Friday, December 9th. Cards postmarked after this date will unfortunately be returned to the sender. This deadline ensures enough time to sort and distribute cards before the holidays. For more information, visit the Red Cross website.)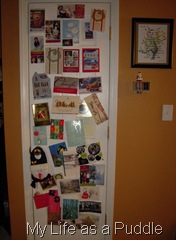 These are part of the cards I received last year. After this shot was taken, I had to start hanging them on another door since I received so many. 🙂
---
Copyright © 2011 My Life as a Puddle