I'm excited to announce I have been selected as an ambassador for The Kindness Rocks Project. Two years ago, I met Megan (pronounced Mee-gehn) Murphy, the founder of TKRP. She and I met for the first time on an Alaskan cruise, and her work impacted me deeply. Since then, we have grown to become friends, and I am grateful to be included in this global kindness movement. Plus, one more person in the world now knows what hyperhidrosis is.
The Kindness Rocks Project
Here is what Megan had to say:
"I met Maria a few years ago and learned about her hyperhidrosis condition. I had never heard of Hh before, and hearing Maria's story was fascinating.
When we take the time to listen to and really get to know others we can learn so much about strength, resilience, and perseverance.
~ Megan Murphy, founder of The Kindness Rocks Project
Maria emulates all three as a result of her condition. Although Hh is not who Maria is, it is part of her story and one that she chooses to embrace and help others with. Her voice is important in letting others know that through our vulnerability we find our strength and that each story matters.
It can be difficult to share those "sweaty" life moments with others. It takes a long time to embrace our personal journey, and Maria is now using her journey to spread awareness about her "sweaty" life moments. That it is something that – once understood – can help others by connecting with those who also suffer from the same condition.
Maria has now joined us as an ambassador for The Kindness Rocks Project. Creating kindness for others is part of the healing process. When we take the time to reach out and help others amidst our own circumstances, we grow, we heal, and we transform our setbacks into beautiful inspiration for others.
This is what Maria is now doing, and we are so happy to have her join our grassroots kindness movement. It all begins with kindness toward yourself, and then you can spread it wherever you go and together we make this world a better place."
What Do Kindness Rocks and Hyperhidrosis Have in Common?
Two years ago – after being inspired by Megan – I participated in Art Drop Day in Denver and dropped blue hyperhidrosis kindness rocks all over downtown. While I'm not a typical artist, my words are my art. So, I wrote inspirational messages on rocks to further spread my mission to create hyperhidrosis hope and awareness one drop at a time.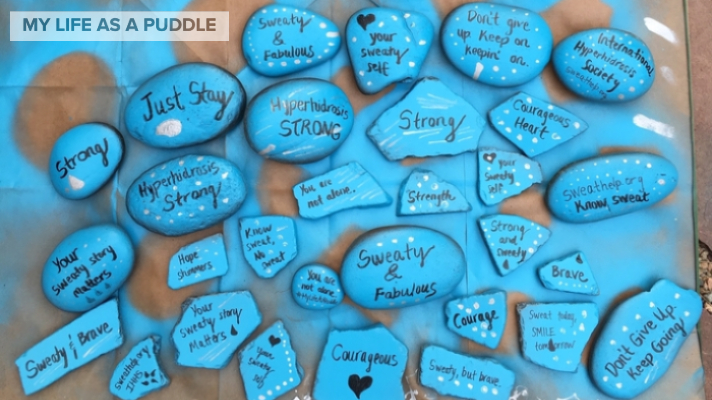 Those with hyperhidrosis may often feel like they are not good enough, are unworthy of being touched, and like outcasts in their own bodies. It was my hope that maybe someone with hyperhidrosis would find my rocks and feel less alone.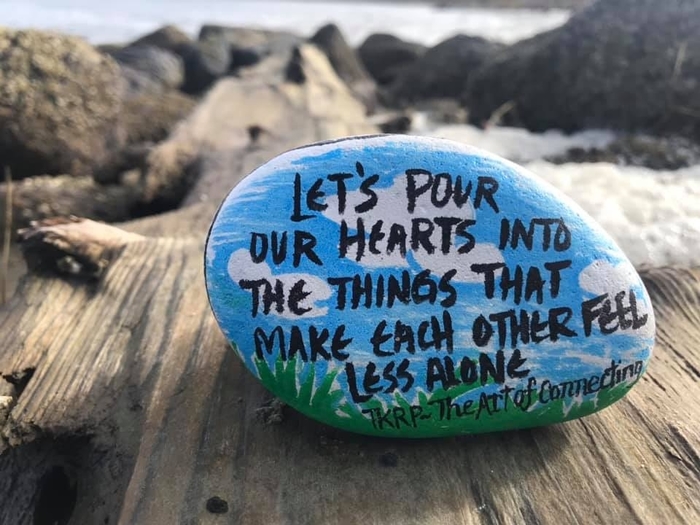 To learn more about The Kindness Rocks Project, check out Megan's book, A Pebble for Your Thoughts: How One Kindness Rock At the Right Moment Can Change Your Life.