I've talked about the Thompson Tee before, and it's a truly great product. I've tested both the men's tee and the women's tee, both with Hydro-Shield Sweatproof Technology. The president of the Thompson Tee, Billy Thompson, is a stand up guy.  Why? First of all, he's created a product that helps those who might otherwise suffer in silence due to their excessive underarm sweating (axillary hyperhidrosis). Secondly, he refuses to make his products anywhere outside of the USA. That's right. The Thompson Tee is made in America and sweatshop free!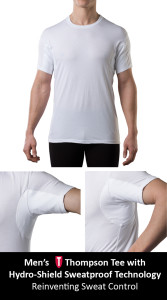 With that in mind, the Thompson Tee needs your help. They have turned down investment offers that would require them to move production overseas. To keep these tees proudly made in the USA, they need to raise some investment capital. That's where YOU come in. As part of their campaign to raise funds, they are introducing a Thompson Classic Tee, one that people can wear when they don't feel they need the extra underarm protection so thoughtfully provided by the Thompson Tee.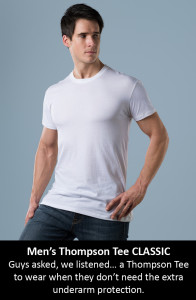 Quick Facts on Undershirts

– The undershirt market in the United States is 65 million people strong, yet none of the other major brands are manufactured here.
– Outsourced, unregulated foreign sewing contractors take a huge toll on jobs in America, human lives abroad, and global pollution.
– For every 2,000 shirts the Thompson Tee makes each month, one new job will be added to their supply chain.
How You Can Help
Every Thompson Tee (with or without underarm protection) purchased from June 1 through July 14  fuels their mission of providing a safe and affordable solution to those with excessive underarm sweat, while remaining committed to our economy and the ethical treatment of garment workers.
Through a crowdfunding campaign, they'll be pre-selling the much anticipated 'Black' Thompson Tee with Hydro-Shield Sweatproof Technology and introducing their 'Classic' Thompson Tee.
What Is Crowdfunding?
A Crowdfunding campaign is an alternative financing option for those who otherwise may not have access to traditional forms of financing.  It introduces and connects campaign creators with people around the world to raise funds for their cause, empowering the general public to show their support for something they believe in.
What To Do Now
Watch this video about the Thompson Tee and their mission and then purchase a tee for yourself, a family member or a friend. Note: in order for the contributions from the campaign to go toward the Thompson Tee, you'll need to purchase them via the indiegogo site.