Before I tell you all of the amazing stories that happened while on board the Share the Adventure cruise to Alaska with Holland America Line and O, The Oprah Magazine, I'd like to share this first. It came in the mail just days before I flew to Seattle to board the Ms. Eurodam. I never would've taken this cruise had it not been for my connection with O Magazine as an OMagInsider. The cruise truly was a dream come true.
Back in 2000, I found my biological father Bill thanks to the wonders of Facebook. I never thought I'd be one of those people who had a Facebook reunion story to tell, but I'm so grateful it's now a chapter in my life. While we've only seen each other a handful of times, he (and my extended family) have been there for me in good times and in bad. So when something bad happened to him, the last thing I expected was a handwritten card from him to arrive.
A couple of months ago, Bill was involved in an accident and lost the fingers on his right hand. As a woodworker and jack of all trades, he works with his hands. They are his livelihood and the best way he knows how to express his love to those around him. (Maybe I'll share one of my favorite handmade items from him in a future post.)
This accident was devastating, but through it all he has managed to maintain a pretty positive outlook on life. He's had frustrating days for sure, but he keeps on keeping on and refuses to let it slow him down. He got back out on his boat and caught a fish using his non-dominant hand. He got a new tablet to make texting and stuff easier. He's got several surgeries in the near future, one of which is Thursday. Please send him good vibes!
But the thing that really touches me is that he took the time to pick out this Hallmark card – in fact, the card was almost late getting to me in time for the cruise because he said he had a hard time finding just the right one. "When you care enough to send the very best" is Hallmark's slogan for a reason, so when Bill found this one he knew it was a keeper. Using his opposite hand, he diligently wrote, letter by letter, this message. (I can hear him most likely slinging a few cuss words while he was at it.)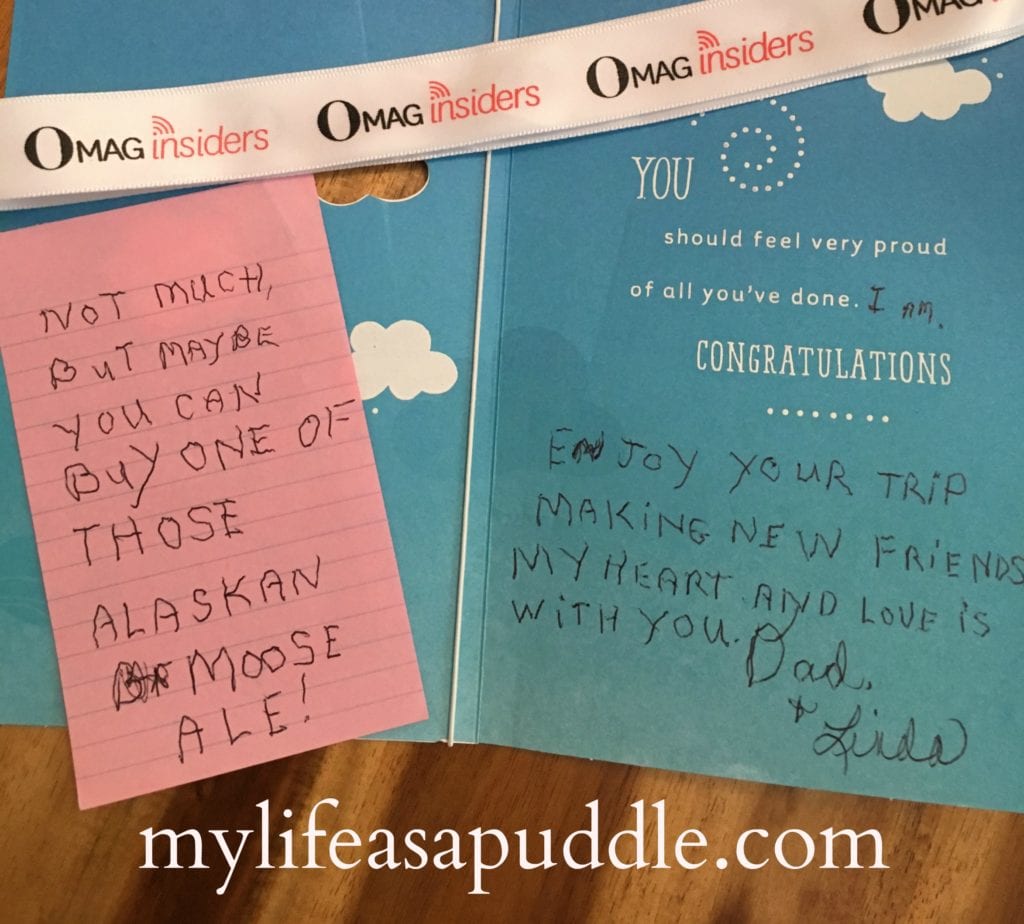 Inside the card was some spending money for my trip to Alaska. Isn't that sweet?
I've saved this card in my memory box as a constant reminder of strength and resilience. Perhaps I get my don't-let-hyperhidrosis-get-you-down attitude from Bill. He and I are a lot alike. I hope one day all of us can go on a family cruise together. I'll leave you with this quote, which I mentioned in my first-ever Facebook Live video last weekend. Please view it if you haven't already.
I can be changed by my circumstances, but I refuse to be reduced by them.
~ Maya Angelou