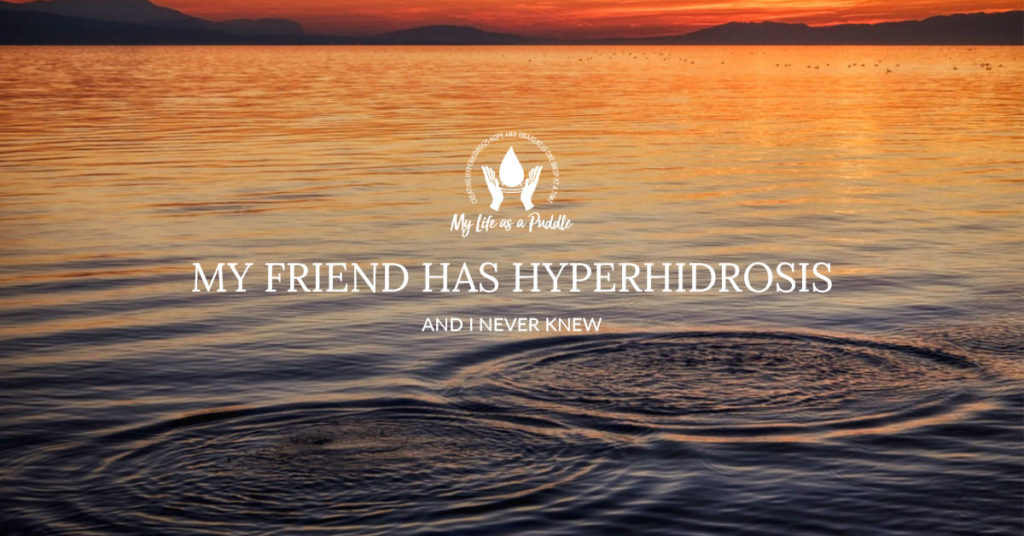 I walk in and see her perched on the bar stool. She's clutching a paper napkin and has an extra stack of them in front of her. Like me, her hands drip with sweat. I walk over, give her a hug and sit down. She is my people.
Twenty Years of Sweaty Silence
It took me 20 years to figure out that one of my friends from high school has hyperhidrosis, too. Last month was my 20-year high school reunion where Candice and I got a chance to catch up with each other. After the reunion, we became friends on Facebook, and she started seeing all my posts about sweat via my My Life as a Puddle Facebook page.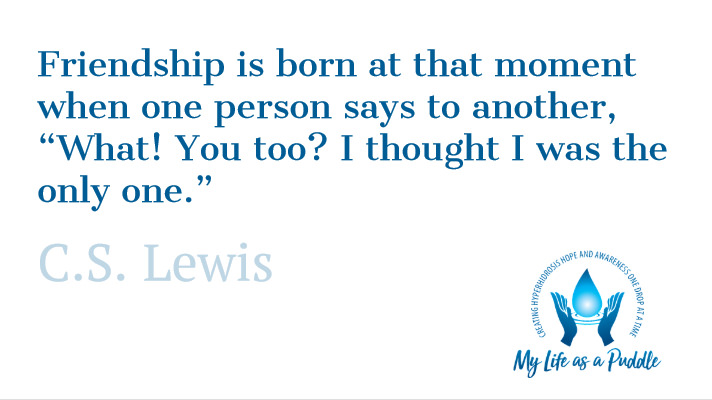 A Name for the Sweaty Problem
She sent me a message and confided that she has been struggling with the same problem since high school and never knew there was a name for it. Now that she knew what it was, a glimmer of hope began to grow. And, she knew I understood the daily struggles and embarrassments of living with hyperhidrosis. If I could have climbed through my screen to give her a hug right then and there, I would have.
As we sat in the bar a few weeks later swapping sweaty stories about our lives, there was an instant connection. The conversation flowed easily, and we didn't have to apologize for or hide the fact that we have hyperhidrosis. All the stupid sweaty commentary that normally runs through my head disappeared for a couple hours. It was a relief to say the least.
Candice clutched her wet napkin, which was beginning to shred (one of our many talents as sweaters is the ability to soak and shred napkins within minutes). Then, she told me about her kids and how sometimes as a threat she'll run after them with her wet hands outstretched as pseudo punishment if they're not doing what they're being asked. Ha ha!
But all kidding aside, having hyperhidrosis can make us feel unworthy of touch sometimes. I know her kids don't shrink back in disgust on purpose or to be mean. They're just being kids. But hyperhidrosis can be emotionally debilitating. So when Candice got teary eyed, I understood why.
Hyperhidrosis Feelings
There are days when I want to cry about my hyperhidrosis, too, and I do. And sometimes I get angry with my body and feel trapped in puddles I can't control. It sucks. I encourage you to let your sweaty angst out and feel your feelings. Stuffing them down doesn't do anyone any good. Then, keep going. I have hope that one day there will be a cure for my sopping wet life. Until then,
We all have the ability to make a choice about how we feel about ourselves. It's not our fault we have hyperhidrosis, and it doesn't make us less of who we are and who we can choose to be in the future.
You are not your hyperhidrosis. While it's part of who you are, it doesn't have to be all that you are.
Don't Wait to Use Your Voice
It figures now that Candice and I have reconnected, she and her family are moving all the way across the country. Wahhh! Don't waste time when it comes to speaking up about your hyperhidrosis. You might find a sweaty friend right next to you!
Candice, I wish you the best in your next adventure. I know you and your husband will do amazing things. It takes courage to follow your dreams. I hope the Carpe lotion I gave you from my purse gives your sweaty hands some help along the way!
Do you have a sweaty story?
I'm opening up my blog to the larger hyperhidrosis community. If you'd like to be featured, please fill out the form on my Contact Me page. In the subject line, enter Guest Post. Not a writer? No worries! I can edit your story, send you questions to answer to create one, or you can record a video. I'm looking for stories that are at least a few paragraphs long (or a few minutes long if you'd like to do a video) versus just a sentence or two.