I heard this quote the other day on TV. Jennifer Lopez says it in one of her commercials for her new clothing line at Kohl's, and after I heard it I immediately wrote it down. I do this all the time, so I've learned to carry a small notebook with me wherever I go so I can document wisdom that creeps ups unexpectedly in my life. I also write down the names of songs I hear on the radio that I simply can't live without, although I don't recommend this while you're driving. Since my morning commute is typically stop and go, I can do it when I'm stopped. I've discovered a lot of new songs thanks to the free 3-month subscription I have to Sirius satellite radio in my new car (more on the car buying experience later). A friend and I also went to Kohl's to check out J Lo's new line, but I wasn't that impressed. I was hoping to try on some of the jeans in the line. I figured since J Lo has a ghetto booty and I do, too, they might actually look decent on me. My size wasn't on the rack, so I wasn't able to confirm my suspicion.
Anyway, I was organizing some photos and found some from fall of 2008 when I met New York Times bestselling author Jeannette Walls. She wrote The Glass Castle and Half Broke Horses, both of which are memoirs. I've always been drawn to the memoir genre, and I think it's subconsciously in preparation to write my own memoir. I've already come up with some draft titles, too, so I will claim them right now: Hyperhidrosis—Adventures of a Sweater (I was thinking maybe the cover could be of a girl wearing a sweater with sweat pouring down the sleeves onto a puddle on the floor) and Hyperhidrosis—My Life as a Puddle, which I'm already using as my blog title.
When I met Jeannette Walls, she said she truly believes in the power of storytelling and that we all have a story to tell. No matter what it is, it is our story, and ours to tell. Our stories shape who and how we are, and we should never be ashamed or embarrassed of them. She also said she underestimated the response of the public to her release of The Glass Castle, and I found myself doing the same thing with the launch of my blog.
Never did I think I would be involved with the International Hyperhidrosis Society, nor did I think they'd ask me to write articles for their newsletters. Most importantly, though, I never thought I'd get such wonderful emails from my readers encouraging me to keep going and thanking me for finally being the person brave enough to speak about a condition that can be shameful and isolating. My readers have helped me realize I'm in the right place, doing the right thing, thanks to where I've been.
The seed containing my desire to write has been planted for a long time, and back in 2008 when I attended this author signing I was validated publicly for the first time. I left the event feeling incredibly happy and excited to have met her, and as soon as I came home I furiously wrote down everything in my journal before I forgot it. I had a hard time sleeping that night because it was such a wonderful experience and it was hard to come down from. This originates from my HSP persona, as I felt this author event on a very intense level. I'm so glad my husband came with me that night to play photographer. The preservation of these memories in the form of an image is something I will forever hold dear to my heart.
I have released the shame and the secret I've held inside for so long  due to my hyperhidrosis. I'm finally starting to believe that I deserve happiness, peace, and a sense of normalcy in the world.
I can make my own normalcy, too. We all have the power to actively create our destiny. So start believing that you deserve the good things in life and are worthy of them. You become what you believe. So quit the negative self-talk and get on with the business of finding your purpose and then living it out. It is never too late to be what you might have been. I've always wanted to be a writer and have always written, and now the avenue in which I'm writing has been widened. This stretching of my purpose has come about because I dared to believe that something inside me was superior to circumstance. I dared to believe that what I had to say about my life as a sweater was important. Now the blessings are pouring down.
Hosting this blog is allowing me to create hyperhidrosis awareness, live my truth, and make others feel like they are not alone. Remember this deeply: as superficial as the Internet can be, my blog is a safe haven for you. Let all your sweating angst out. Talk about it, write about it, feel it, and then let it go. The truth will set you free. Stop hiding from it. You don't become who you are because of what you tell the universe you DON'T want. You become who you were meant to be by telling the universe what you DO want and by living authentically in the direction of your dreams and goals. It's not easy, but it's worth it.
There is hope for people who have hyperhidrosis. There are so many treatments that are available, and some things might work better than others in certain people's bodies. But we have options. We can experiment until we find what works best for us as individuals.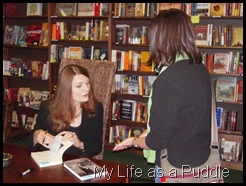 This is me telling author Jeannette Walls my story about suffering from hyperhidrosis. Right after this, SHE TOUCHED MY HANDS AND DIDN'T SHRINK BACK IN DISGUST. I love this woman.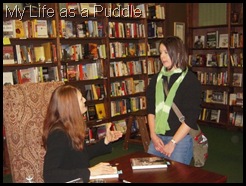 This is Jeannette telling me not to be embarrassed or ashamed of my story as I'm trying to hold back the tears that I totally didn't expect.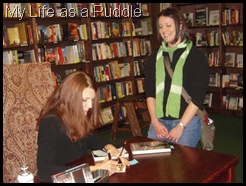 Here she is signing my 2 books plus the blurb about her in that month's issue of the Oprah magazine. Oh, and then? She suggests I write my story for a magazine, and then WRITES DOWN THE NAME OF AN AGENT AND TELLS ME TO USE HER NAME AS A REFERRAL WHEN I CONTACT HER. I love this woman.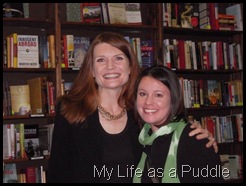 Here is me ridiculously excited and in awe over the wonderful spirit this woman is. She took the time to listen to my story, offered solace and advice, and completely ignored the other 30 people standing behind me as she did it. And you know what? Those 30 people can suck it. This is MY time. 😉
I tried to embed a video of Jeannette Walls talking about her shame, but I'm having technical difficulties. Please click this link and watch it. It's worth a few minutes of your time.
Have a dry and lovely day!
Maria
---
Copyright © 2011 My Life as a Puddle
If you're new here, please consider subscribing to my blog via email notification or by adding me to your RSS feed so that you can be notified of a new post. You also can find me on Facebook.