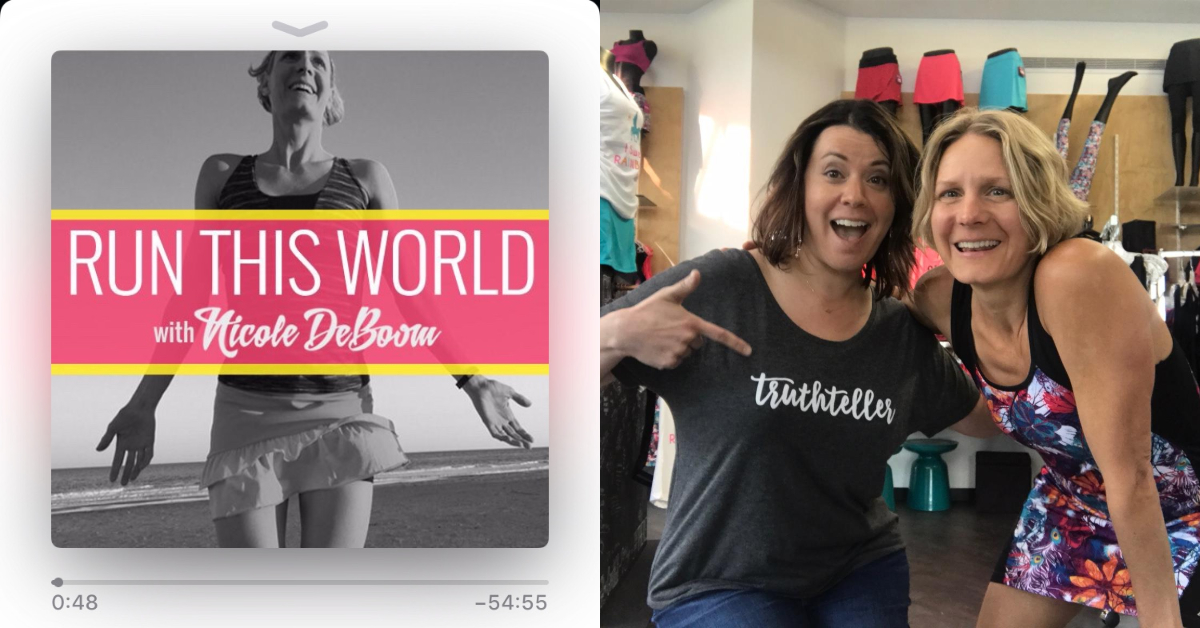 I met Nicole DeBoom, founder of Skirt Sports and the Run This World podcast at the Women For One Truthteller Tour. She and I shared the stage and told truths that were pretty scary to tell. After that amazing evening, I asked her if I could be a guest on her podcast, and she said yes! I love Nicole. She's such a badass.
We recorded in the office at Skirt Sports headquarters in Boulder, surrounded by athletic wear, much of which is sweat-friendly. I'm always on the lookout for clothes that hide sweat. I left the store with some samples from Nicole's Cool It Collection. I'll be writing about these clothes that wick away sweat soon.
Talking About Sweat
Here's what Nicole had to say about our interview.
"I think about what Maria is able to share today and it makes me so proud. And grateful. Grateful that she is so willing to be open about very difficult topics that many people are too embarrassed to mention." – Nicole DeBoom, founder of Skirt Sports
Here's an outtake from the show where I discuss Summer Soles for sweaty feet. I love these these insoles! (If you can't see this video above via email, watch it on YouTube.)
Listen to My Hyperhidrosis Podcast
You can hear me on episode 102 of Run This World, available on iTunes and on Nicole's site or you can listen right here on my website below.
Brace yourself. I talk not only about hyperhidrosis, but a lot of other stuff. Now, I'm like, Wait. Did I really just talk about THAT to the entire world?! I have no regrets about anything I said, though. If what I had to share helps someone else, that's success to me. Give it a listen and tell me what you think.
Nicole is incredibly easy to talk to, and she asked such good questions. Thank you for having me, Nicole.  At the end of the interview, I said this:
You have a choice every day whether you are going to rise above or stay below. Just take that one next step to become a better person whatever that might look like for you.
I hope you take this into account whenever you are feeling bad about yourself and your hyperhidrosis, or anything else you might be going through. You don't have to be defined by your circumstances, but you can be changed by them.
I'd like to start my own hyperhidrosis podcast soon so I can talk sweat in addition to writing about it. I've got a few other tricks up my sweaty sleeve first, though. Stay tuned!