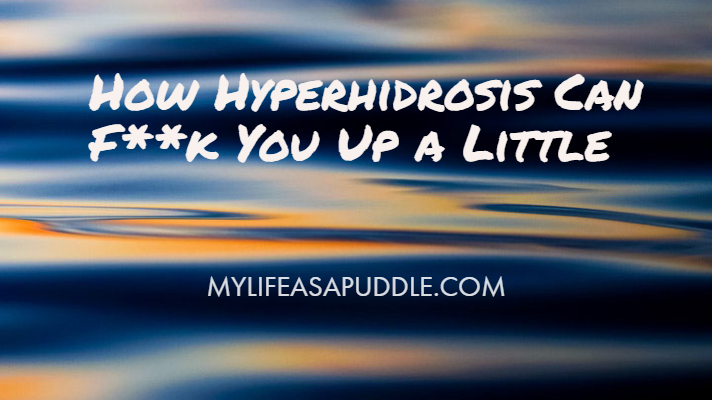 Confession: Sometimes I cuss like a sailor. Just ask my cousin Jim. I debated whether to use the title of this post for awhile, but then I decided NOPE, I'm not going to filter myself here. Because this word implies that hyperhidrosis (Hh) is serious (which it is), and it can f**k you up  sometimes.
So let's keep it real, okay?
Here is how hyperhidrosis can be so devastating that it f**ks you up.
Unworthiness – feeling unworthy of being touched
Safety issues
Depression
Extreme cases of hyperhidrosis can cause suicidal ideation
Extreme compensatory sweating (CS) as a side effect of ETS surgery can lead to reclusiveness, showering multiple times a day, changing clothes several times a day, and more
Negative self-talk (I sometimes refer to this is as my sweaty inner monologue)
Career-limiting choices

Avoiding law enforcement jobs for fear of not being able to grip a weapon
Avoiding medical professions because it's hard to get latex gloves onto sweaty hands or you're worried about sweating through your scrubs,
Assembly line/factory positions that require intense use of your hands
Waitstaff at a restaurant and sweating profusely from the head and face (craniofacial sweating) into the food you are bringing to the table
These things that I've mentioned above (and I know there are so many more) are the feelings and realities of hyperhidrosis sufferers worldwide. This is why we need more clinical research, which leads to more clinical trials, which leads to more treatment options for hyperhidrosis.
Facts About Hyperhidrosis
Data published in Archives of Dermatological Research show 4.8% of the population suffers from hyperhidrosis — this makes Hh more common than autism, melanoma, psoriasis, and peanut allergies.
The following facts about uncontrollable excessive sweating are provided by the International Hyperhidrosis Society's report The Voice of the Hyperhidrosis Sufferer, an incredibly comprehensive resource gleaned from their Patient-Focused Drug Development Meeting for Hyperhidrosis (I like to call it the Hyperhidrosis PFDD for short).
There are approximately 15.3 million individuals living with hyperhidrosis in the U.S.
A 2016 study of more than 2,000 participants found the prevalence of anxiety and depression was significantly higher in those with Hh than those without Hh
Hh sufferers have a 300% greater risk of skin infections (just ask my high school track coach who saw me with athlete's foot all the time – ugh!)
60% of Hh sufferers report negative impacts on general health
40% of Hh sufferers report physical discomfort
5% of Hh sufferers indicate they take antidepressants or anti-anxiety medications due to their sweating
So what can we do for hyperhidrosis?
You are NOT alone when it comes to hyperhidrosis!
Subscribe to my email list to get notified each time I write a new blog post. I won't spam you – promise!
And, make sure you're following me on Instagram, Facebook and Twitter. I post a lot more often on social media, and I don't want you to miss a sweaty thing!