I took a trip to Oregon for Thanksgiving. (Yeah, I know I'm a tad behind on blogging about this.) My mother-in-law and her boyfriend recently moved there, and this was our first visit. We flew into Portland and then drove a few hours to her new place. I was able to cross off one thing on my bucket list: Powell's Bookstore. It's an entire square block of awesome. I was soooooo excited to go there, so I mandated that it would be our first stop after landing at PDX.
It was raining when we got to Portland. Shocking, I know. It was humid, but I didn't notice it too much initially. I was more concerned with navigating ourselves to the books. We parked in downtown Portland and hoofed it over to the bookstore by way of Whole Foods. That's another store in which I could spend hours looking around. When I opened the front doors to Powell's, the angels started singing and white light surrounded me. Then, as a Highly Sensitive Person who also has hyperhidrosis, my hands started to sweat from the excitement of my surroundings, which I feel on a deeper level than most people since my nervous system is so finely tuned.
I spent a good hour or so looking at everything Powell's had to offer. I planned to spend some money there that day, so as my pile of purchases began to accumulate in my arms, I had to do the strategic holding and placement of my hands I've talked about before so as not get everything all sweaty. Once I was ready to pay for everything, I worked my way over to the registers. I watched the line very carefully and waited until there was only one person in front of me before I got in line. I hate standing in lines! My sweat factor increases in lines.
After Powell's we grabbed some breakfast and began the drive to the Oregon coast. My mother-in-law lives just a few minutes from the beach, so we went there first to watch the sunset. It was so pretty! Oregon air, especially on the coast, is so different in November. It was a bone chilling cold, and I could not get warm for the first couple of days we were there, which was weird but also entirely fabulous because I was not sweating. Yay! I was so cold that I had on a long-sleeved shirt, a sweatshirt, and a scarf during our Thanksgiving dinner. Absolutely unheard of for me, especially at the dinner table since I tend to sweat more around other people when we have to pass plates of food around and deal with silverware and cutting meat, etc.
Here are some photos from my trip. The beach shots are from the camera on my iPhone. I am so impressed with those shots!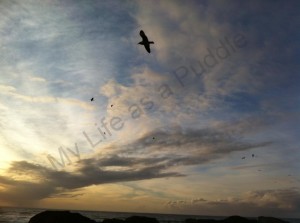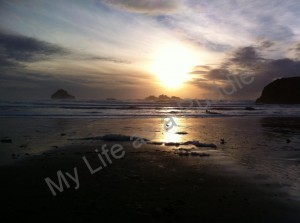 Before we left Portland, we stopped at a local brewery for some dinner. Upon arriving at the airport and dropping off the rental car, I began worrying about going through the security checkpoint. I hate traveling with hyperhidrosis. Surprisingly, though, I did not sweat through security on our way home. Perhaps that had something to do with the two beers I had at dinner. Who knows. But it was blissful, I can tell you that. I had such a good time exploring the airport before our flight left. They have a Powell's Bookstore at the PDX airport, too!
---
Copyright © 2013 My Life as a Puddle