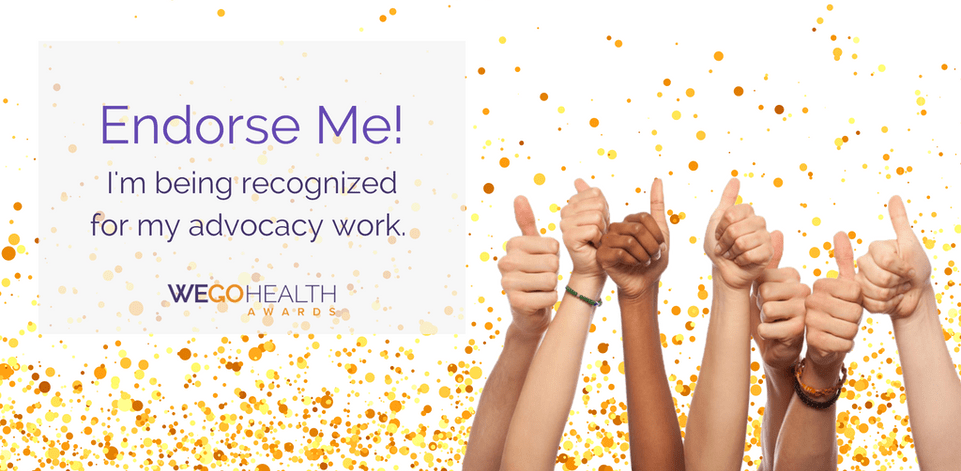 I am excited to announce that I have been nominated for the WEGO Health Best in Show: Blog Award in the 2018 WEGO Health Awards.
WEGO Health is a mission-driven company connecting healthcare with the experience, skills, and insights of patient leaders. They are the world's largest network of patient leaders, working across virtually all health conditions and topics. Click here to learn more about their Patient Leader Network.
The WEGO Health Awards were created to celebrate those who tirelessly support the mission of WEGO Health: to empower the patient voice.
With 16 award categories, the WEGO Health Awards are the only awards across all conditions and platforms that recognize the over 100k inspiring Patient Leaders who raise awareness, share information, and support their communities – but often without recognition.
Why This Award Matters
I am honored that several of you took the time to nominate me for this award. Thank you from the bottom of my heart.  However, this award isn't about me.
This award is about YOU and all of the other people who suffer from hyperhidrosis, many of whom are struggling silently. This is why I do what I do – to help other sweaty people know they are not alone and to empower them to one day use their own voice and speak up about a condition that can be devastating.
If I were to win this award, it would give hyperhidrosis much more visibility and further spread awareness. I have been blogging about hyperhidrosis for seven years. I don't spend any money on advertising. I don't buy followers on social media (yes, that's actually a thing and lots of people do it #NotCool). My efforts are entirely grassroots, and I'm proud of that fact.
My Hyperhidrosis Advocacy
Over the last year or so, my puddle of hyperhidrosis hope and awareness has grown larger. I've been recognized or awarded for hyperhidrosis advocacy (directly or indirectly) in the following ways:
Representing Hyperhidrosis Sufferers
This year, the 16 WEGO Health Award winners will be honored at an in-person celebration in October co-hosted by the Society of Participatory Medicine at the Connected Health Conference.
Just imagine if we had a sweaty representative at this conference! Hyperhidrosis is under- recognized and under-treated. If I were to win, I would attend this conference with the best interests of those with hyperhidrosis in mind. I would speak about  why we need more – and better – treatment options, why it's not "just a little sweat," and just how much this stupid excessive sweating condition affects our daily lives.
I don't care how many people's hands I have to shake while mine are sweaty, or whether I'll have to dress up and do the infamous hand wipe across the front of my clothes, or whether I'm sweating through my shoes and ruining them. I will collaborate with industry leaders and tell them our collective sweaty story.
How You Can Help
I'm now looking to my incredibly supportive network to help endorse me for this award. There are two easy ways to endorse me that only take seconds of your time!
You can click on my endorsement badge located on the upper right sidebar of my website (if you're reading this on a mobile device you probably can't see it – sorry!)
Click here to be taken to my WEGO Health Awards profile where you can click "Endorse" under my nominee photo.
If I have ever supported you, made you laugh, or inspired you to keep fighting – please consider endorsing me for this award. Thank you.