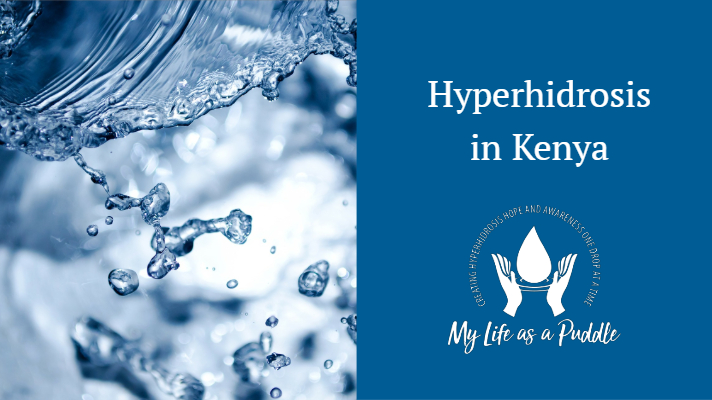 Please welcome Martin Kimamo from Kenya. Earlier this year, Martin cycled across six counties from Nairobi to Kisumu to raise awareness for hyperhidrosis and offer support to those who are struggling with excessive sweating. You can find Martin on Facebook here.  This is Martin's story (edited for length and clarity).
Meet Martin Kimamo
You can read Martin's story below, which he sent to me after he saw me mention that I was opening up my website to guest posts. Here is a video of Martin, which I love because you get to meet him virtually and see his passion come through. (Note: If you're reading this blog post via email and can't see the video, watch it on YouTube here.)
Accustomed to Sweating
As young as I was when I first noticed symptoms,  to me sweating was normal. I would see my dad sweat after a hard day's work, and my sweaty feet and palms were a normal thing my mind convinced me.  I'd watch my siblings and parents keenly to see whether they had sweaty hands and feet, but they didn't.
While the rest would enjoy wearing sandals (slippers), I would avoid them like the plague. You will find me in my shoes whether its 500 degrees or below zero. My socks will soak with sweat. I would feel ashamed, especially with the foot odor. My dad would get upset when he bought sandals for everyone, but there I was wearing shoes and he couldn't fathom why.
Imagine being the only one in the family with sweaty hands and feet and being mistaken as an anxious little boy always tensed and afraid. There were harsh words spoken, especially when I removed my shoes and my feet smelled. Born a neat freak I have never had a problem taking care of myself, but with sweaty hands and feet sometimes it tends to send the wrong signals.
Struggling in Elementary School
All was normal to me until I was enrolled in primary school that's where it hit with a bang, "I am different."  It made me feel uncomfortable and weird.  I tried my best to hide my sweaty palms by stretching my school sweater to cover/dry my sweaty palms. As young as I was, I became conscious of every step, move, and most of all my feet. The thought of having smelly feet would break me in half.
My struggles got tougher as time progressed. Whenever we would have physical activities that involved body contact such as holding hands it would throw me off the edge and in the event it happened my classmates would have this disgusted look on their face. They were innocent, and they had no idea hyperhidrosis is a medical condition; neither did I.
My exercise books and textbooks showed sweat puddles, which would be part of my classwork as well as my homework. Flogging was legal back then and the teachers would get frustrated when my sweating left stains all over the rattan (cane). At home, I was misunderstood and they thought my excessive sweating was due to fear and anxiety.
Sweating in High School
In high school, my story was still the same but now on another threshold. My level of confidence was murky, and any form of interaction would make me uncomfortable. Group discussions, Christian unions (CU), and physical activities were a NO for me. I became more self-conscious shaking hands or having any body contact with others. My level of cleanliness doubled. I had to seal every loophole and make sure my sweating condition was undetected.
Being born an introvert made it much easier but now I was an introvert reloaded with hyperhidrosis. I really wanted to make a move on the ladies, but I would hold back because my level of confidence was so low; hence, whenever I gathered the courage to do it rejection was an instant reply.  I tried to fit in and appear popular, but that would get me back to my original spot as a loner and in total solitude.
Throughout my high school life I shied away from relationships (after several failed attempts). I found peace in music, especially gospel music. A few meters from my school there was a church I would frequently visit and attend. I joined the church choir, and most Saturdays I would practice with them. My sweating predicament was still there, and I did my level best to hide it until one day we were asked to hold hands and all hell broke loose.
I couldn't escape the request from the pastor so I went ahead. My palms were so sweaty. Sweat was dripping, and all the while I was thinking to myself, The man holding my hand must be cussing the living sweat out of me. The preacher was going hard in prayer with eyes shut; mine were wide open. I looked at him and I noticed he was getting uncomfortable with sweat dripping from his hand like he was squeezing the sweat out of me.
As soon as the church said Amen, he took out his handkerchief and wiped my sweat off his hands with a disgusted look. But that wasn't all; he took out his hand sanitizer to wipe the additional bacteria and other perceived fungal infections from my sweaty palms. For several Sundays after that, I stayed at home didn't feel like going to church to face embarrassing moments. I reconvened, but this time round there was no holding hands, high fives or physical contact. It made me appear antisocial.
Discovering a Diagnosis
My family couldn't understand my struggles, and explaining it would just be a waste of time so I chose to struggle and suffer in silence.  Discouraged, I thought Am I  the only one in the world with this struggle? "It's just sweat. Everyone sweats." Easier said than experienced.
One Wednesday evening after my afternoon class I walked home and found my younger sister watching The Tyra Banks Show. It was like the heavens had ordered that particular Wednesday. On the show there was a young African American girl talking about her struggles with excessive sweating and how she'd been bullied. It captured my attention as I sat at the edge of the couch 100% attentive.
I connected with her and her struggles, and she was emotional as she expressed her ordeal. She then reached out to Tyra Banks for help. That's where I learnt that what I have been struggling with is a medical condition, a sweating disorder known as hyperhidrosis. All along I thought I was alone. It gave me a sigh of relief to know I am not alone there's someone overseas with the same struggles as me. 
Sweating with a Purpose
One chilly drizzling Friday at home enjoying my off day, I woke up early as usual and sat at the edge of the bed with ideas hitting my mind. Every attempt to block my mind failed. Guess there's no more procrastination. I grabbed my pen and note pad and jotted down everything I felt. It was like that particular Friday had a purpose. Where God leads He provides.
Well, if no one is talking about it I guess I'll provide a platform where we can address our daily hyperhidrosis struggles. I was looking for a simple support group just like what they have internationally. But wait. Having the same may not work here; this is Africa. It will take God's intervention for persons living with hyperhidrosis to come out. Here I am back to the same spot, but all along God had already rolled out a plan. I read through my story again, and I realized it's through my struggles that someone will find their victory. I shelved the mission for a year but it was very much alive in my mind.
In 2017 I revisited it again but with an initiative approach. Now since we do not have any in Kenya and Africa I am about to enter into a whole new dimension. Attempting to start an initiative that has never been done before is going to be a challenge, but what's life without challenges?
The Perfect Imperfection Cycling Campaign
I decided I was going to cycle a road bike from Nairobi to my hometown Nakuru. My friend dared me and said, "Nakuru is too near. Cycle to Kisumu and move out of your comfort zone." The dare turned into my reality. Everything is set proposal and action plan all copyrighted. January 12, 2018 was set as the official launch of the awareness campaign Hyperhidrosis Awareness: The Perfect Imperfection Campaign. Its main mission is restoring hope and confidence. It was like heaven finally understood what I have worked hard for is finally here.
I shared my personal struggles in video and print as well as my mission of cycling from Nairobi to Kisumu. Three months later with persistence and two TV interviews about 100 people (the number keeps increasing) have reached out to me for help and solutions on how to manage their hyperhidrosis. Many didn't have a clue it's a medical condition and they felt abnormal or bewitched; now, they own their flaw and work toward getting their confidence back.
I've been blessed to stop suicide attempts and boost self-esteem of those who had given up. It's a journey that's not easy but worth every bit of blood, sweat and tears. This mission may not benefit me, but it IS for those who come after me –  the young boy and girl who are struggling with a condition they have no knowledge of. 
On May 26, 2018 I cycled from Nairobi to Kisumu and handed out fliers explaining hyperhidrosis in addition to speaking about the condition.
Thank you Martin for sharing your story! Do you have a sweaty story you'd like to share? Fill out the Contact Me form and use the subject line "Guest Post."