I was super excited to fly in and surprise my grandma. But the one thing I never look forward to is going to the airport. I don't mind flying, but I hate having to deal with the logistics of my sweaty hands and feet in the airport. Take the suitcase issue: I hate holding the handle as I roll it around. It gets wet and then dries with this weird coating from my sweat. I usually try to only hold it when absolutely necessary, otherwise I will maneuver it around with the inside of my wrist and lower arm. While one hand is busy with my suitcase, the other hand is holding my ID and boarding pass. These have to be placed in my hand just right so that the ink from the boarding pass doesn't smear. I have my ID on the bottom and the boarding pass underneath just my thumb. I probably look suspicious to security since I'm so uncomfortable in my skin by that point.
Once they check my ID, next comes the mad rush to take off my shoes, remove all liquids from my bag, and get everything on the conveyor belt. I can never wear sandals or flip flops to the airport. One, I'm not a fan of placing my bare feet on a germ-infested floor where everyone else's feet have been. Two, who am I to put my bare, dripping feet all over the tile floor so I can leave footprints behind for all to see? Sick. So, I always wear tennis shoes with socks, or some kind of slip-on shoes with socks. I still leave footprints through my socks, but at least it's a lesser evil. Once I make it through security, it's on to the tram to get to the gates. I don't like sitting down on the tram. I feel cooler if I'm able to stand, but at the same time, I have to hold on somehow since the tram moves pretty fast. I try to position myself around a pole so that I can lean into it rather than hold on to it. Also, I always wear jeans to the airport, never shorts. I need the fabric to cover the backs of my legs, especially if the seats on the plane are leather. Plus, jeans have more fabric than shorts, the better to wipe my hands on. I'd like to try and wear one of the longer skirts I've talked about before, but that would look dumb with a pair of tennis shoes and socks, so I'll have to work on the shoes for that outfit first.
So, after dealing with the airport sweatiness and grabbing my bag from the carousel at baggage claim, I was off to find my Uncle Jimmy. He was the brains behind this idea in the first place, and was so generous with his frequent flier miles to get me out there. I was already sweating again after having to wait for my suitcase, but it was magnified in anticipation of the surprise we were about to pull off. I love surprises. I wish more people would surprise me as much as I like to try and surprise them. Combined with my Highly Sensitive Person trait, I could feel the excitement of the environment being pumped up the closer we got to my grandma's house.
As we pulled into the driveway, the headlights could be seen from the living room and my grandma and mom were looking out the window. I stayed in the car and acted like I was my uncle's girlfriend who was finishing up a phone call. My uncle went inside and said, "Okay, mom. The rest of your Christmas present finally arrived. UPS finally figured out what happened to it." He opened the door with a big fanfare, and in I walked. It was my grandma, my aunt, and my mom (who had already been there for 3 weeks) in the living room, and it took my grandma a second to realize that it was me standing in the middle of the room. Once I said hello, her face just lit up. It was a bittersweet moment for me. I was so happy to be there, yet so scared of what she would look like after already having a couple rounds of chemo. She looked better than I thought, so that was good. I shockingly managed to keep my tears from spilling over, and then I looked over at my mom to say hello. She was pretty much dumbfounded, too, and my aunt hadn't even looked up yet, since I was standing sort of behind the chair she was sitting in.
My Aunt Nancy said she thought Uncle Jimmy had been up to something, since the last time he was over he was walking around with a twinkle in his eye. Yep. That's my uncle. He has such a big heart, especially for his family, and he spoils us any chance he gets. Now more than ever, I am so grateful to him for helping me to create these memories with my grandma, and with him. It was definitely a positive aspect of my layoff that I can now appreciate. If it weren't for losing my job, I would not have been able to drop everything and fly out. It got me away from the doldrums of my job search and not having anywhere to really go during the day since most everything costs money. It was at my grandma's house that I could simply be. Be there for a week of quality family time, forget about the job applications, and just reconnect with people whom I hadn't seen in awhile. It allowed me to quiet the constant hum in my brain and slow down.
In the slowness of this week, I was able to do some forward thinking. All of the job interviews I had completed were now out of my hands, so there was no use worrying about the outcome. It was much easier to stop ruminating about everything since I wasn't at home and had people to focus on. Coming up, I'll be talking about some specific actions I took (and that were gifted to me by others) while visiting my grandma to help create the outcome I wanted upon my return.
Here are a few snapshots from my trip.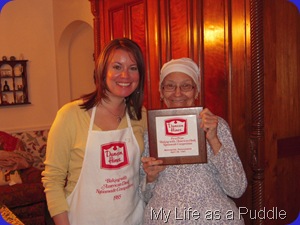 My grandma won the Duncan Hines Baking with American Dash contest in 1985 for a recipe she made up. She's awesome like that.
This is my wonderful mother. She and I got some quality time together during my trip.

This is my maternal grandma's side of the family, minus my other uncle.
---
Copyright © 2012 My Life as a Puddle