I met Marta last month. She, too, has hyperhidrosis and basically lives in my backyard. She found me on Instagram and sent me a DM to ask for tips and tricks on how to cope with wedding day hyperhidrosis. I suggested we meet in person, and we had the best time! Marta has never shared her sweaty story publicly until now. Thank you, Marta, for being brave. Welcome to the sweaty tribe.
Dripping Feet
My name is Marta. I am 26 years old, and I live in the Greater Denver Area. I have suffered with hyperhidrosis since I was about 12 years old, maybe even earlier. I can't exactly pinpoint when it started, but one of the earliest experiences I remember with hyperhidrosis was when I was probably in 6th or 7th grade, and I went to church with my family. I was wearing flip flops, and by the end of the one-hour mass, I had left an actual puddle on the floor from my dripping feet. To this day I only wear open-toed shoes if I am going to the beach.
Sweating in High School
When my hyperhidrosis started, it was worst on my hands, feet, and underarms. The underarm sweat was what bothered me the most at the time, especially as a girl in high school. I always felt self-conscious, and most of my wardrobe consisted of black shirts because I knew the sweat would show less.
I always hated not being able to wear certain clothes in fear of my sweat stains showing. I finally got fed up with it and decided to tell my doctor during a yearly physical exam when I was about 15 years old. I had done some of my own internet searches and discovered the term "hyperhidrosis" and knew immediately that was what I must have.
The doctor didn't know anything about hyperhidrosis and just prescribed me a prescription strength antiperspirant. It didn't help my hands, feet, or underarms at all. I felt defeated and kind of gave up trying to find a solution for a while. I learned to just cope the best I could.
Finding Treatments for Hyperhidrosis
Then, the summer before I started college, I discovered Secret Clinical Strength antiperspirant. At first it didn't really help with keeping me dry, but it certainly worked better than any other antiperspirant in keeping me feeling fresh (dare I say, not smelly). It was at least a step in feeling a little better about myself.
Soon, I also learned about Certain Dri, and that was what really worked in keeping my underarms more dry! I remember going to the beach and immediately noticing that there was no longer sweat dripping from my underarms! I am lucky that at least Certain Dri and Secret Clinical have helped me reduce my underarm sweating to this day! However, because of my long-term use of these products, I have definitely noticed compensatory sweating in other areas of my body, but at least more manageable than and not as noticeable as underarm sweat stains. My hands and feet were still awful.
Physical and Emotional Effects of Hyperhidrosis
Hyperhidrosis has certainly stopped me from doing certain things that many people do without having to experience discomfort like I do, such as:
rock climbing
something as simple as freely shaking hands and giving high fives without second thought.
But, I will say I never let it really stop me from achieving my goals. I graduated from an Ivy League University with a Chemistry major. I pushed through Chem labs with sweat dripping out of my gloves. Maybe I looked like the crazy student who changed their gloves way more frequently than anyone else, but I started to reach a point where I didn't care.
Sure, I had days when it would still get me down, and having to turn in exams that were more crinkled than everyone else's exams because my hands were dripping onto them was not exactly a confidence boost, but I made it work. I did keep it from everyone though. Only my family really knew about my condition, and even then I don't think any of them really understood how much this condition affected me emotionally. I still felt very embarrassed about it, but lived my day to day.
I am now finishing up a PhD program in Chemistry. I made it through most of the years without letting my hyperhidrosis get in the way. It wasn't until last year when my sister was getting married, and I was the Maid of Honor, that made my anxiety about my sweat grow again like it was when I was in high school.
I was so nervous about standing in front of everyone in a dress that I could not wipe my sweaty hands on because the fabric would stain immediately.
Educating Physicians on Hyperhidrosis
So I started looking for solutions again. I went to a doctor so I could get referred to a dermatologist. Again, this doctor knew nothing about hyperhidrosis. She actually did an internet search in front of me and printed a PDF about hyperhidrosis. Of course I had already done all of this research on my own already, but I took my referral.
I discussed options with my dermatologist, and he felt the best option would be to try iontophoresis. I have now been using it for a few months on my hands and it definitely works! It is certainly not a 100% fix. I still notice my fingertips sweating a lot, but it is a huge improvement. Unfortunately, my back sweating has significantly increased. As I find solutions to each sweaty part of my body, I realize that for whatever reason, my body will always find a way to release the sweat. As a result, I am too scared to try it on my feet in fear of sweating in an even more embarrassing place.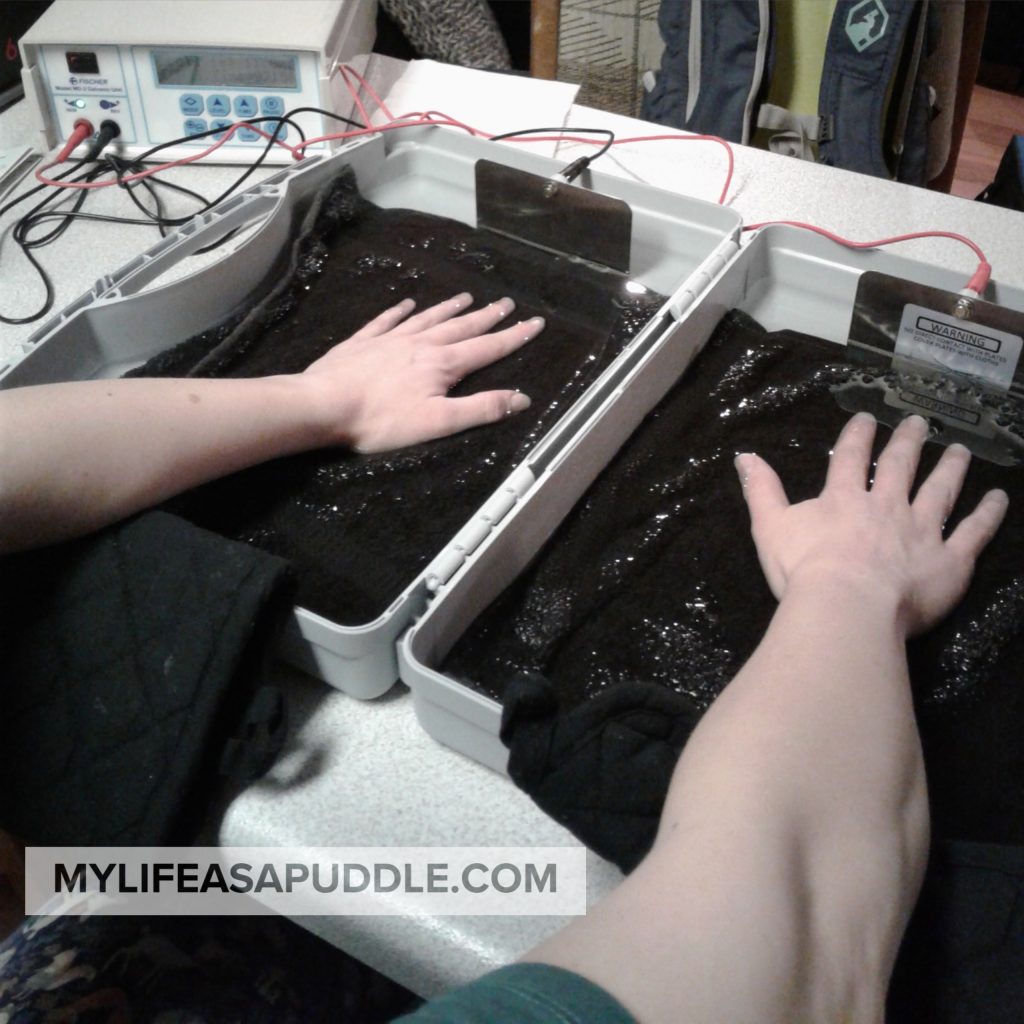 Lately, my biggest concern with my hyperhidrosis is that I am getting married in a few months and am worried about how I will be affected on my big day. Especially now that my back has started sweating from doing iontophoresis treatments on my hands, I'm worried about how noticeable it will be in my dress.
You and Your Hyperhidrosis Are Not Alone
I recently met Maria, and she was such a huge help. Thanks to her, not only do I have more confidence that I can get through my wedding day, but I also feel better knowing that so many people are dealing with this condition and I am not alone.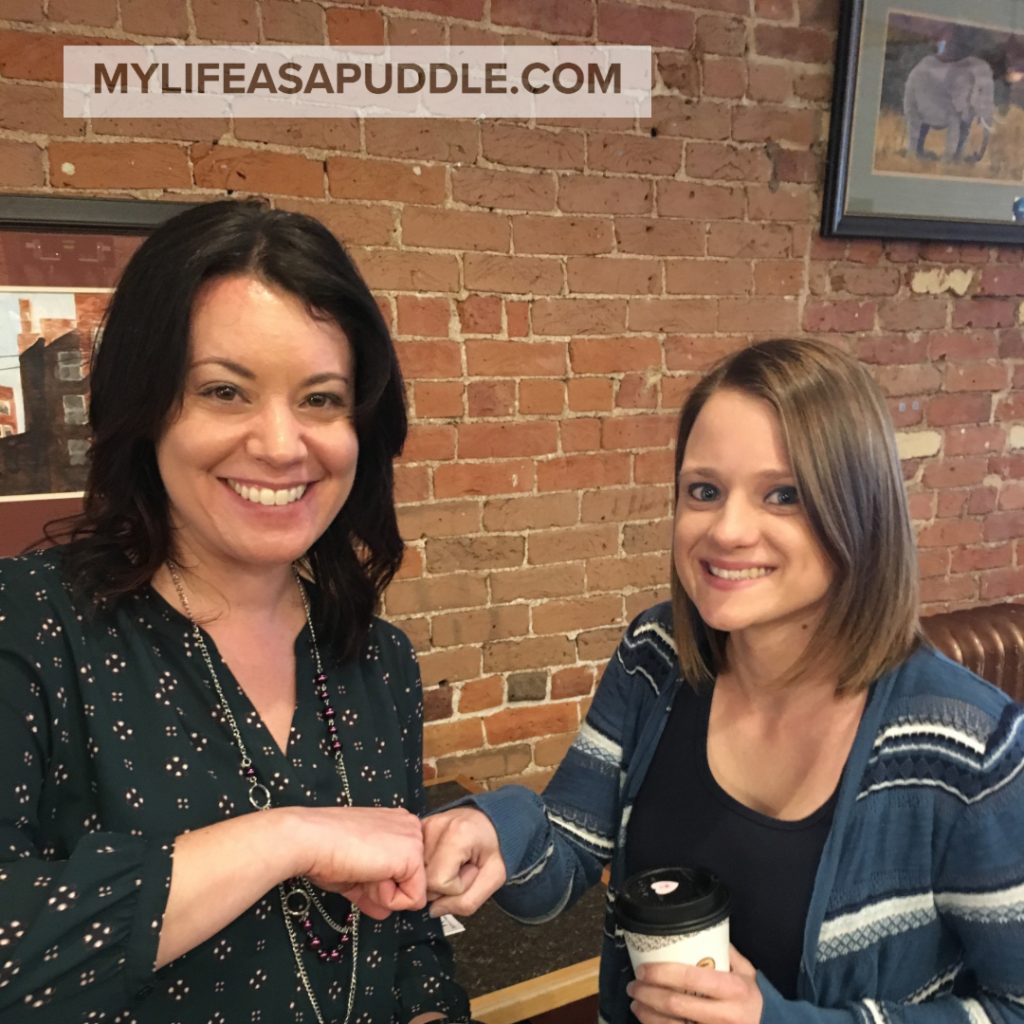 I think what I would want the world to know about hyperhidrosis is that even though I am not constantly sweating (although sometimes it does feel like it is all the time) and it's not a terminal illness, it is still something that really affects my mental and physical health.
I still have days when I feel so overwhelmed about my condition and cry because I feel like I can't do certain things without feeling uncomfortable or constantly worrying that I will be in a situation where my sweat will take over. I hope that I can gain more courage to stop trying to hide my condition and let those around me know so I can feel less insecure!

Thank you, Marta, for using your voice and sharing your story. I know it will help others who have hyperhidrosis. Together we can do more!
Do you have a sweaty story?
I'm opening up my blog to the larger hyperhidrosis community. If you'd like to be featured, please fill out the form on my Contact Me page. In the subject line, enter Guest Post. Not a writer? No worries! I can edit your story, send you questions to answer to create one, or you can record a video.