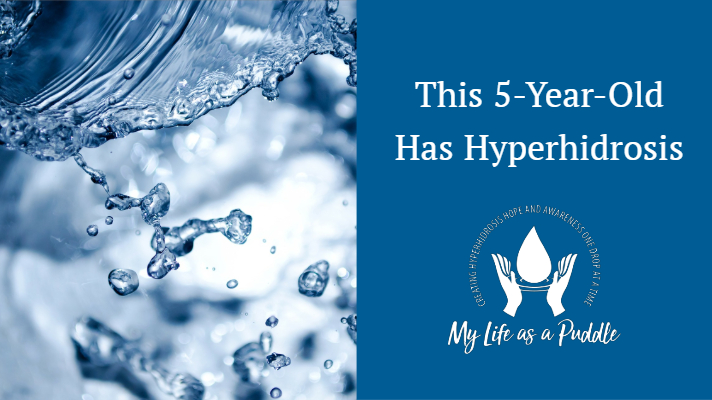 Please welcome Hayley from the UK. She is my very first guest blog post! Her daughter Jess is five years old and suffers from hyperhidrosis. Here is Jess's sweaty story.
Diagnosed With Hyperhidrosis at 10 Months Old
Our daughter Jess was diagnosed with hyperhidrosis at 10 months old. We first noticed her excessive sweating of her hands and feet at around four months old. As we were having a heat wave here in the UK, we automatically put it down to the weather and her being a baby. We kept her cool, hydrated, etc. However, it was then that we noticed there must be more to it, as the sweating continued.
Doctors here had never known a child so young to suffer from this condition. It took a lot of our own research and frequent trips to see medical professionals before they finally diagnosed her with hyperhidrosis.
It began to be a problem when she started learning to walk. She would slip and slide as her feet were soaked, resulting in her not wanting to walk anywhere or even put her feet down on certain surfaces.
Pediatric Treatments for Hyperhidrosis
She was referred to a dermatologist at our local children's hospital, where we have tried numerous treatments. She was prescribed Driclor solution, which she hated as it is a liquid solution, which has to soak into the skin and can take some time to dry.
She tried oxybutynin hydrochloride medication, which made her mouth sore and dry.
Jess has described herself as having a "yucky (horrible) feeling inside" when she begins to sweat. She also gets very frustrated and angry.
As we don't know anyone else with this condition, it is heartbreaking as a parent to not understand fully what your child is going through. We can only try to interpret what she is saying and try to understand how she is feeling.
Iontophoresis for Excessive Sweating
We welcome any information from adults with this condition to help us to understand how others feel. As a last resort, the dermatologist referred her for iontophoresis treatment at our children's hospital. We researched this ourselves and decided to allow her to have the treatment.
We explained to our daughter what would happen during the treatment and told her she would have ice powers like her favourite Disney princess once the treatment was done, as it should stop her "sweaty thing" as she calls it. After all, the 98% success rate during studies gave us great hope that this should work.
She was the best patient and even surprised the nurses and specialists at how well she behaved during the treatment. She attended 10 sessions over the space of four weeks, increasing the intensity each time. We were told it would gradually improve with each session. Unfortunately, the treatment had a reverse effect and resulted in her hyperhidrosis worsening.
As her parents we felt like we had let her down and felt guilty for putting her through the treatment.
As we had exhausted all other options available to us, I continued to search the web. It was then we came across Carpe lotion. As Carpe had also been posted on Maria's blog, My Life as a Puddle, we thought we would give it a try after contacting the company directly and discussing with our dermatologist.
I am pleased to say that although Carpe lotion has not yet taken away her sweating all together, it has definitely reduced it dramatically after only a short amount of time she has used it, giving us hope we have found something that has finally worked after five long years.
This has given our little girl her confidence back, improving her ability to hold her pencil in school and run around in sandals. Her school teacher has even commented on her joining in more often in games where the children hold hands. All of the usual things we all take for granted.
We are so proud of our beautiful little girl for everything she has been through and everything she will continue to face as a person with hyperhidrosis. She is such a happy, positive little girl and a true inspiration already at the age of five.
Thank you Hayley for sharing Jess's story first with me, and now with the world. Jess is a brave little girl, and I will never stop fighting for more hyperhidrosis awareness and treatment options for people like her.
Do you have a sweaty story?
I'm opening up my blog to the larger hyperhidrosis community. If you'd like to be featured, please fill out the form on my Contact Me page. In the subject line, enter Guest Post. Not a writer? No worries! I can edit your story, send you questions to answer to create one, or you can record a video (note: videos aren't accepted via my contact form, so let me know on the form if you want to create a video). I'm looking for stories that are at least a few paragraphs long (or a few minutes long if you'd like to do a video) versus just a sentence or two.
You can remain anonymous if you'd like when I post your story. Or, you can use your name. Whatever you're most comfortable with. I know it's hard to speak up about your sweaty secret. But once you tell your truth, I promise you it feels so much better to let it out! Remember, you are not your diagnosis.
(Disclaimers: Individual results may vary when seeking treatment for hyperhidrosis. Remember that each person is unique, and what works for one person may not work for another. Only you and your doctor can determine what's best for you. I am an affiliate for Carpe lotion; the opinions expressed herein remain my own or belong to the person who is speaking about it.)