Looking for a job is hard work. When I was able to schedule a week's worth of interviews (to get companies to actually call you is a feat in and of itself ), I was excited yet also totally freaked out. That's a lot of dress clothes and company research and advanced worrying about the anticipation of my sweating I had to endure. At least I could get them all out of the way in one shot, though.
The first Interview was for a marketing and communications manager position. After I interviewed with this organization, I had mixed feelings when I left the interview. Mixed in the sense that I didn't know how well it went. I liked the organization and felt like it was a good fit for me, and I for them. I met with four different people and answered many different questions. Overall, I thought it went okay, except for one of the interviews in which I basically had to go bullet point by bullet point down the job description to convince one person I was qualified for the job. That portion of the interview was absolutely nerve wracking and was the part where I was sweating the most. I almost felt like my face turned red at one point, which can happen as part of my hyperhidrosis.
That part of the interview was the last one I had before leaving the office. On the way home, I felt like such a failure. I had prepared for the interview as best I could, did my standard pre-interview routine to pump myself up (I'll be talking about this in another blog post), and came in with my portfolio ready to display. By the time I got home, though, I didn't know what to think. I was just numb from the process and thought for sure I had failed the interview. I still had an editing test to complete, though, which thankfully they allowed me to take home. I emailed the test back and started the waiting process again.
The next day I interviewed for a training editor position. My best friend had called me early that morning to alert me of some developing marketing announcements about the company that she had heard on the morning news. I'm so glad she called, as I was able to talk about this information in the interview. They were very surprised I knew of these latest announcements, so it helped me stand out and showed I was doing my research on their company. However, this interview went so smoothly and I was so calm that I think I may have come across as arrogant and overqualified. I am not arrogant. Confident in certain situations, yes, but arrogant, no. So when I left this interview, I again didn't know what to think. I felt good about it, but at the same time I thought maybe I seemed overbearing.
So now it's midweek, and the combination of a crummy interview and a good interview put me in a healthy place for an interview for a medical writing web specialist. Upon entering this interview, I was acutely aware of my surroundings and the way they made me feel. I had to park my car in a parking garage that is monitored by security, and then I entered a building with controlled access (I couldn't even go to the restroom beforehand to rinse my hands under cold water to help reduce the sweating!). It was a short walk from the garage to the elevators, and I made sure to slow down my normally fast walking pace so that I wouldn't generate additional sweat and become out of breath. I notice that my breathing changes during interviews, too. I tend to analyze everything that happens to me.
I arrived at the proper floor and had to be buzzed into the office. I was extra early for this interview since it was snowing that day, so I sat in the waiting area and thumbed through a magazine about the organization. I should say slopped through, as my fingertips were nearly making squeaking noises on the glossy paper as I turned the pages. I had on a long sleeved cardigan, so I used it to wipe off the drip marks as I turned each page. Don't ask me what the magazine was about. I have no idea. I was too nervous trying to hide my droplets and adapt to the room temperature while I waited. And I swear there was a vent above me blowing hot air. Evil, I tell you.
Long story short, I interviewed with 3 managers. Since this position focused heavily on writing, I was able to showcase the freelance writing I've done for the International Hyperhidrosis Society (see those articles here and here) and talk about my blog. I explained what hyperhidrosis was, the Botox experience I had, and how my blog has brought so many great things my way and to my readers based on the feedback I've received. They asked for writing samples, too, so I sent them links to my blog, specifically to the To My Readers entry. So, if you're reading this now and have contacted me personally via the Contact Us form on my blog, have left a comment on my blog, or have posted on my Facebook page, I thank you so very much. Your blog comments were part of what many of the companies I've applied to have asked to see specifically. The time you took to post your thoughts is helping me in my job search process.
At the conclusion of this interview, I was given a mini tour of the office, shown where my office would be, and told that they'd like to have me back to meet with a few other members of the team. I took that as a good sign. The next day, Thursday, I went to the last interview I had scheduled for the week. This wasn't an interview, though. It was another editing test, and those who passed the test would be invited for an interview.
This 4th company told me the pay was significantly less, but I opted to go and take the test anyway to get more experience in the job search process. I felt like an excited fan when I arrived. I was in a publishing house that produced many of the books I've read, stuff by authors like Martha Beck, Pema Chodron, Michael Bernard Beckwith, Eckhart Tolle, and Andrew Weil. You can even bring your dog to work at this place! So cool. I would have loved to work here, but I knew going in that it probably wouldn't work out. I was contacted to return for an interview, but by this point the position had changed to temporary contract work, which really didn't align with my career goals. I am so grateful for the experience, though. I met some great people, a few furry friends, and got to physically touch layout work that I'll probably read in book form when it's published. Love that! I truly respect and admire the work this publishing house does.
Stay tuned to learn whether I was invited for a second interview with any of these organizations.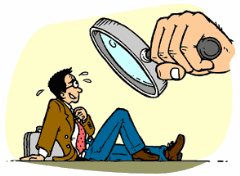 Image credit Bio Job Blog
---
Copyright © 2012 My Life as a Puddle