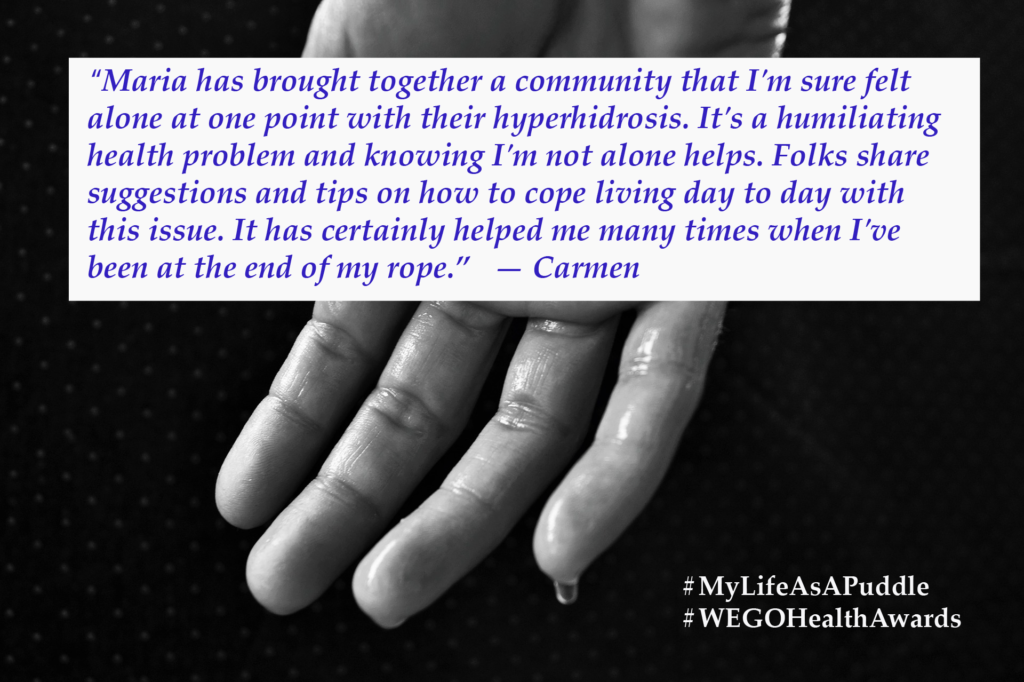 Dear Sweaty Friends,
Friday Is The Deadline
I need your help! The deadline to endorse me for Best In Show: Blog for the 2017 WEGO Health Awards is this Friday. After that, the judges take over to determine the winners. Please help me climb the ranks.
Here's a video below detailing what you need to do. I feel really dorky recording myself, and I was a sweaty mess afterward and had soaked the towel I was holding my phone with. (If the video won't display for some reason, watch it on Facebook.)
VIDEO: My Life as a Puddle WEGO Health Endorsements
How to Endorse Me – Three Options
Go directly to my WEGO Health page and click the orange "Endorse My Life as a Puddle" button.
Click the orange "Endorse Me Now" button on the right side bar here on my website (if you're reading this on a mobile device or in the email version of this blog post, you won't be able to see this).
Go back to this post and fill out the form that's embedded in the post (this WILL work from a mobile device).
Give Hope
If you're able to view my video, you'll see I showed you a sneak peek of my vision board. Many of the things I've placed on it have already come true. One of the images on my board says Give hope.
It is my mission to create hyperhidrosis hope and awareness one drop at a time. I work really hard on this blog and on Facebook, Instagram and Twitter to create awareness about this condition. Heck, I've even forced myself to record videos now and feel horribly awkward doing it. But you can't grow if you don't push yourself.
Winning this award will help me – and us as a sweaty community – to spread public awareness about a condition that can be mentally, emotionally and socially debilitating. I've got big plans for my sweaty self, some of them coming up very soon and which I'm excited to tell you about in upcoming blog posts.
Yours in Sweat,
Maria